---
New 2023 Fall Product Catalog
---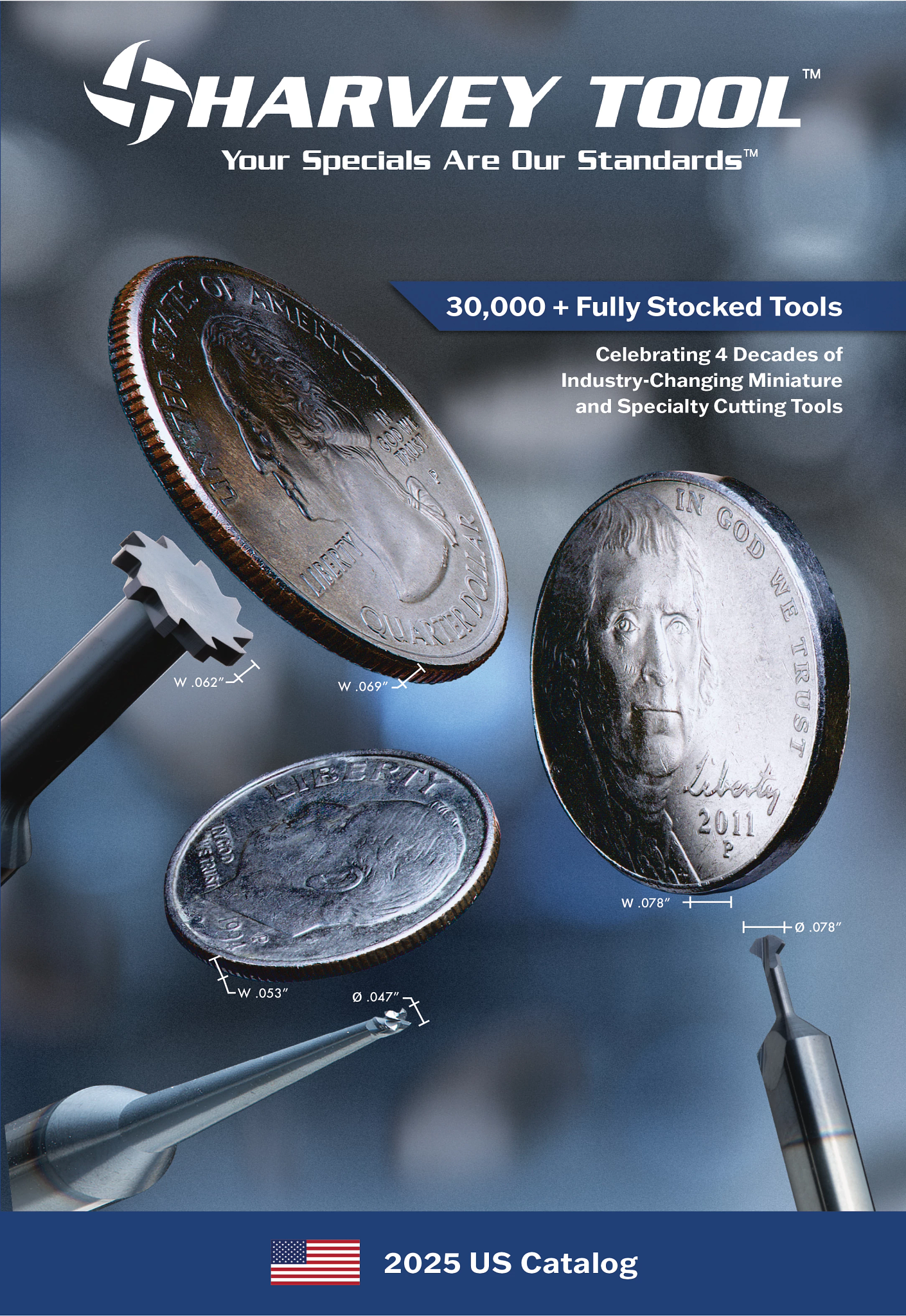 The Harvey Tool Fall 2023 Product Catalog is the key to elevating your CNC game. Featuring more than 28,500 cutting tools, and more than 530 new tools of our industry-leading selections of miniature and specialty cutting tools, think Harvey Tool First for the obscure tool dimensions your next job demands. Unlock your full CNC potential by arming your shop with high precision Miniature End Mills and Specialty Cutters that are ready to ship today.
Explore our wealth of resources, from Speeds and Feeds Charts to Simulation Files and our revolutionary Machining Advisory Pro (MAP) and pair them with our new comprehensive catalog. View our full online catalog now, or request a print copy, today!
---
New Tooling Options for Fall 2023
---
Hexalobe Cutters Countersinks
Optimize your precision machining with Harvey Tool's offering of Hexalobe Cutter Countersinks. CNC ground in the USA with a 140° tip angle, 120° chamfer angle, and h6 tolerance, this superior offering ensures high precision machining for hexalobe style cuts.
---
Slitting Saws Full Radius
CNC ground from solid carbide with dished sides to allow for outstanding clearance and durability, Harvey Tool's Full Radius Slitting Saws feature no keyway or hub, making them the perfect choice for radius-only cutting.
---
Miniature End Mills - Corner Chamfer - Stub & Standard
Now offered in stub and standard length of cut.
---
Drill/End Mills - Mill Style - 3 Flute
Now offered in four new angles including 60°, 82°, 90° and 120°.
---
Double Ended Chamfer Cutter
Now offered in seven new angles including 15°, 20°, 30°, 41°, 45°, 50° and 60°.
---
---
Miniature Long Reach End Mills
Now offered in new overall length sizes.
---
Miniature End Mills - Square - Long Reach
---
Miniature End Mills - Ball - Long Reach
---
---