---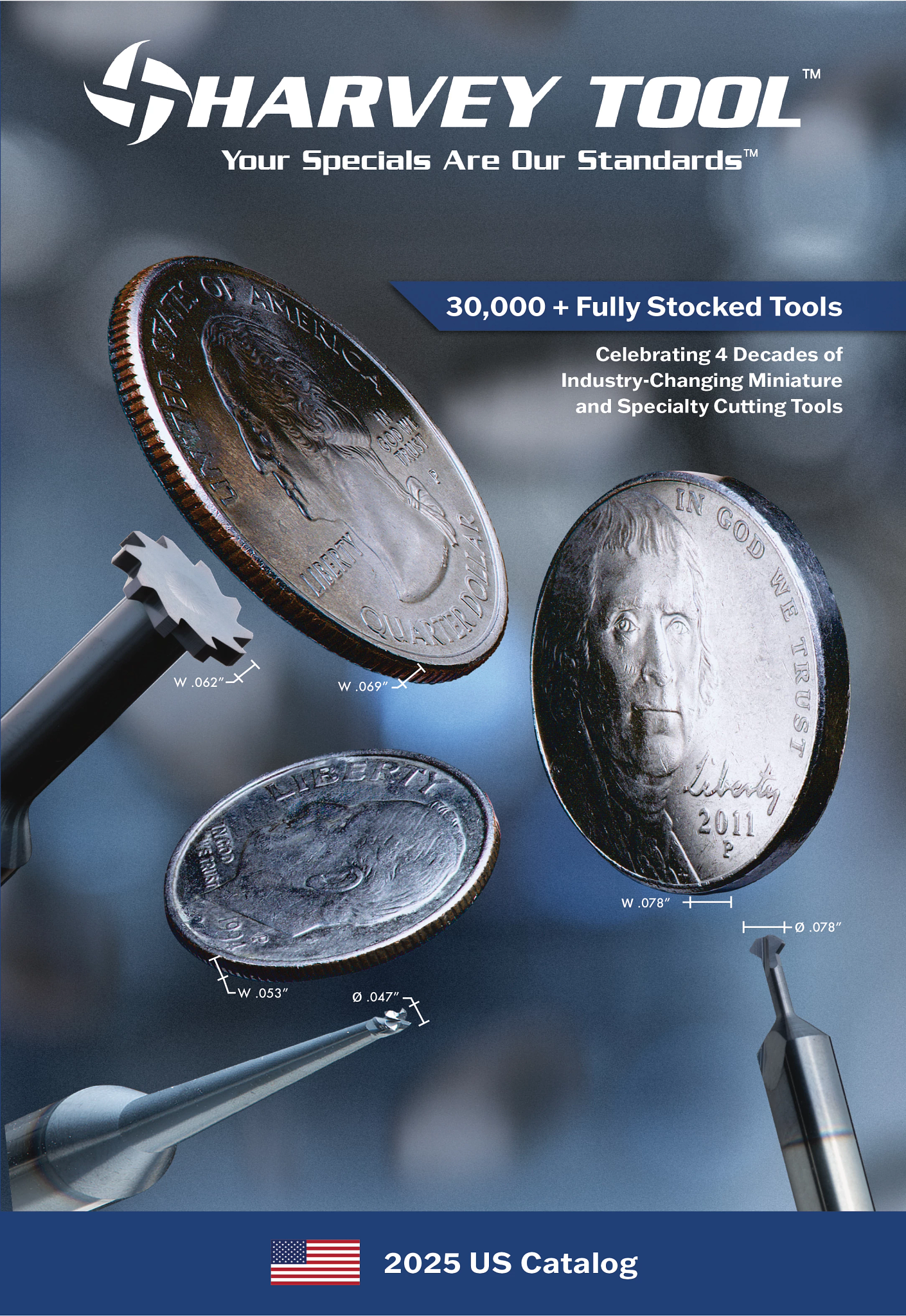 The Harvey Tool Spring 2023 Product Catalog is the key to taking your CNC game further. Featuring more than 28,000 cutting tools, including more than 650 new tools, our industry-best selection is jam-packed with fully stocked solutions to tackle your most challenging machining projects. Unlock your full CNC potential by arming your shop with high precision Miniature End Mills and Specialty Cutters that are ready to ship today.
We also provide many technical resources for every product we offer, including Speeds and Feeds Charts, Simulation Files, and newly introduced, Machining Advisor Pro (MAP). MAP is the industry's most trusted Speeds & Feeds generator, optimized for Harvey Tool's 28,000 products. Elevate your CNC machining capabilities and begin your unique Harvey Tool experience by viewing our full online catalog, or requesting a print copy, today!
---
New Tooling Options for 2023
---
Miniature End Mills - Square - Stub & Standard - Metric
Our popular square profile Stub & Standard Miniature End Mills are now fully stocked with all dimensions and tolerances in metric values, with cutter diameters ranging from just 0.5mm to 12.0mm, and in both uncoated and ALTiN coated styles.
---
Miniature End Mills - Ball - Stub & Standard - Metric
Harvey Tool's "bread and butter" product offering, Miniature End Mills, are now available with all product dimensions manufactured in metric values for ball profile.
---
High Helix End Mills for Aluminum Alloys - 60° Helix – Square
This fully stocked Harvey Tool offering of High Helix End Mills for Aluminum Alloys - 60° Helix - Square is engineered for fast chip removal and to leave an incredible part finish in aluminum.
---
Variable Helix End Mills for High Temp Alloys - Square - Reduced Shank
Featuring all of the benefits of a reduced shank tool, and constructed of solid carbide, this new offering of tools within our popular Variable Helix End Mills for High Temp Alloys is engineered to boost material removal rates while minimizing chatter and harmonics.
---
Variable Helix Square End Mills for Aluminum with ZrN Coating
Optimized for aluminum and aluminum alloys with excellent performance in copper, brass, and bronze alloys, Harvey Tool's Variable Helix End Mills for Aluminum Alloys - Square reduces chatter and harmonics and improves material removal rates (MRR). Now offered in ZrN coating to help improve hardness lubricity and abrasion resistance.
---
Type II Undercutting End Mill (270 Wrap Angle)
Harvey Tool's 270° Undercutting End Mills are designed for undercutting, deburring, and multi-axis machining. Our new Type II style features a tapered neck to increase the tool's rigidity.
---
Pointed Chamfer Cutters Now Offered in 2 and 4 Flutes
Our comprehensive offering of Pointed Chamfer Cutters (Type I) are now fully stocked in both 2 and 4 flute styles. This addition now complements a product table of Flat End (Type II) and End Cutting (Type III) styles, offered in angles per side ranging from 15° to 80°, and in as many as three coating options: uncoated, AlTiN coated, and TiB2 coated.
---
---
---